Dublin Ratha Yatra Schedule
up to 11.00 – Gathering at take-off point in Merrion Square
11:00 – Opening ceremony with Lord Mayor and religious/cultural representatives
12:00 – Parade leaves from Merrion Square
14:00 – Festival begins at St. Stephen's Green bandstand
17:00 – approximate ending time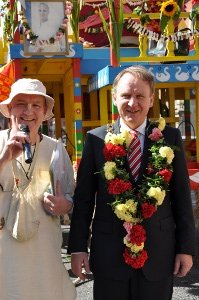 Our guest-list for the day will include a representative from the Indian Embassy, the Lord Mayor of Dublin, representatives from the Equality Authority of Ireland and guests from the Garda Racial and Intercultural office as well as many respected priests and monks from around the world.
To the left: the Lord Mayor of Dublin Councillor Gerry Breen is introduced to the festival goers at the 2010 Dublin Ratha Yatra. Prior to addressing the audience the Lord Mayor inaugurated the festival in the traditional way that dates back thousands of years to the holy town of Jagannatha Puri in Orissa, eastern India.
After breaking coconuts in front of the Rath cart the Lord Mayor then swept the road before the Lord's cart began its journey through the centre of city. The sweeping of the road by the first citizen of the city is a symbolic gesture indicating the relationship of service between all citizens and Lord Jagannatha.
Festival activities on the Green
Music – Contemporary and classical spiritual songs, in both Eastern and Western styles
Philosophy – Guest speakers and local teachers talk about the basics of Krishna Consciousness
Dance & Vocal performance – Songs of devotion and other demonstrations of Indian culture
Exhibits – Spiritually-oriented arts, crafts, and literature
Free Vegetarian Feast – Share in our prasadam (spiritually prepared and delivered food)